ISFAHAN , which is located in the foothills of the Zagros Mountains at an altitude of about 1600 meters above sea level, has a continental climate. You can see and feel all the four seasons in Isfahan, with hot summer and cold winter days and nights. During spring, Isfahan recovers its greenery, turning to an Eden on the Earth with light breezes make you feel good. Fall in Isfahan is very stunning, especially in its gardens and Nazhvan Forest Park.

Isfahan is the third-largest city in Iran, after Tehran and Mashhad, with a population of about 2 million people, most of whom are Persian speakers. This city is one of the major cities of Iran in terms of tourism attractions and historical monuments. Isfahan is the cradle of history and civilization and witnesses many events with a long history. It is located near the giants of steel factories as well as many industrial towns that are surrounded by different mines.
Nazhvan Forest Park
If you decide to start a journey to Isfahan from the university, you need to know how to use public transportation. Let's say that you are a student of Isfahan university of technology and want to explore the city after attending different classes at the university, hoping that your day will be a memorable day! It will not be difficult to get to the city in about 30 minutes with buses that move from the university to Darvazeh Tehran every 15 minutes. Now in a crucial transportation center of the city, you can choose different options depending on your destination.
Public transportation is available at reasonable prices in Isfahan, which makes it a perfect city for public transportation fans, and its quality is increasing day by day. The city enjoys a quite efficient public transport including buses, metro systems, and taxis. You can move around easily in Isfahan by bus. The buses in Isfahan carry around 550 thousand passengers daily. Metro systems, or underground train, has recently started its activities in Isfahan with only one line runs from north to south of the city and carries about 80,000 passengers daily.
Metro lines are expanding in Isfahan and connecting more parts to each other. Taxis are another choice available especially with Uber-like or online taxis growing day by day. In addition, cycling is always a choice in Isfahan, as the city is going to become a bicycle-friendly city.
Julfa Street
In Darvazeh Tehran, Bus lines 9 and 23 can take you to Chahar Bagh Abbasi Street and Enghelab square, where you have access to Si-o-Se Pol Bridge. With line 9, you can also go to Darvazeh Dowlat square, a 10-minute walk away from Naqsh-e Jahan Square, where half of the beauty of Isfahan lies.Line 34 is another choice if you want to go to Julfa and Khaghani street, or Darvazeh Shiraz, Chaharbagh Bala, and Mardavij. There are many taxis in Darvazeh Tehran to take you anywhere in the city.Using Metro, you can go to Darvazeh Dowlat and Darvazeh Shiraz squares, Mount Soffeh, Si-o-Se Pol Bridge, and Hakim-Nezami Street, near Julfa.
With different historical places, astonishing gardens and parks, and diverse shopping centers, Isfahan is the place for you, no matter what your favorite hobbies are! In fact, this city is called half of the world by the people because they believe that it has the beauties of half of the whole world by itself. There are historical places here that attract thousands of people every year to witness the glory of eastern architecture and culture.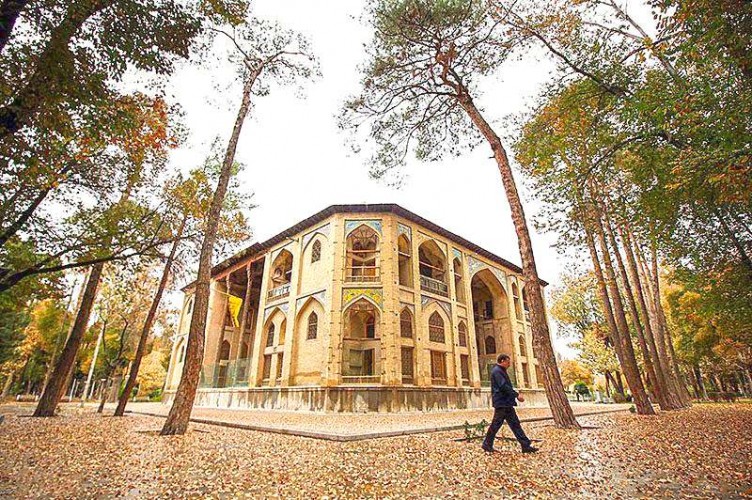 Hasht Behesht Palace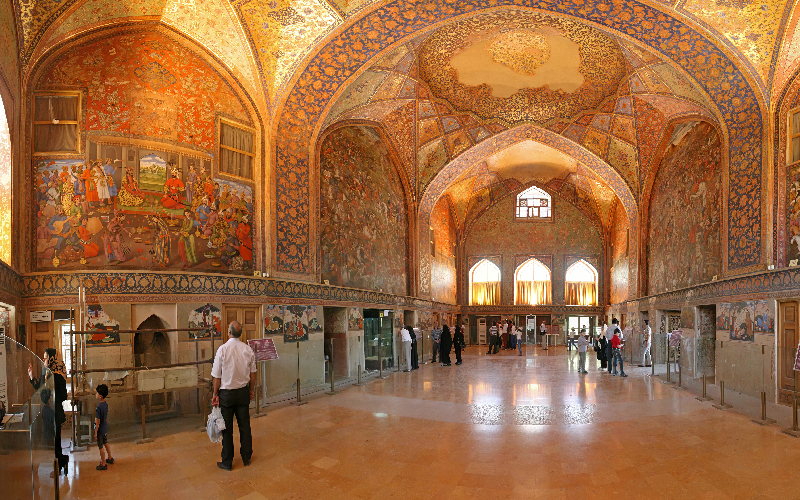 Chehel-Sotoun Palace
Passing through its mosques and Islamic architecture, Isfahan has earned the epithet of the City of Turquoise Domes. Naqsh-e Jahan Square is surrounded by Jame Abbasi Mosque, Lotfollah Mosque, and Ali-Qapu Palace and each of these palaces take hours to describe its beauty in words. Life in Isfahan has always intertwined with the Zayanderud, a river that flows through the city. Along the river, many historic bridges have always attracted attention, from Si-o-Se Pol Bridge and Khaju Bridge to Shahrestan Bridge, which is the oldest. Once bigger than London and more cosmopolitan than Paris, Isfahan used to host many palaces, one of them still remains and serves as a museum: Chehel-Sotoun Palace.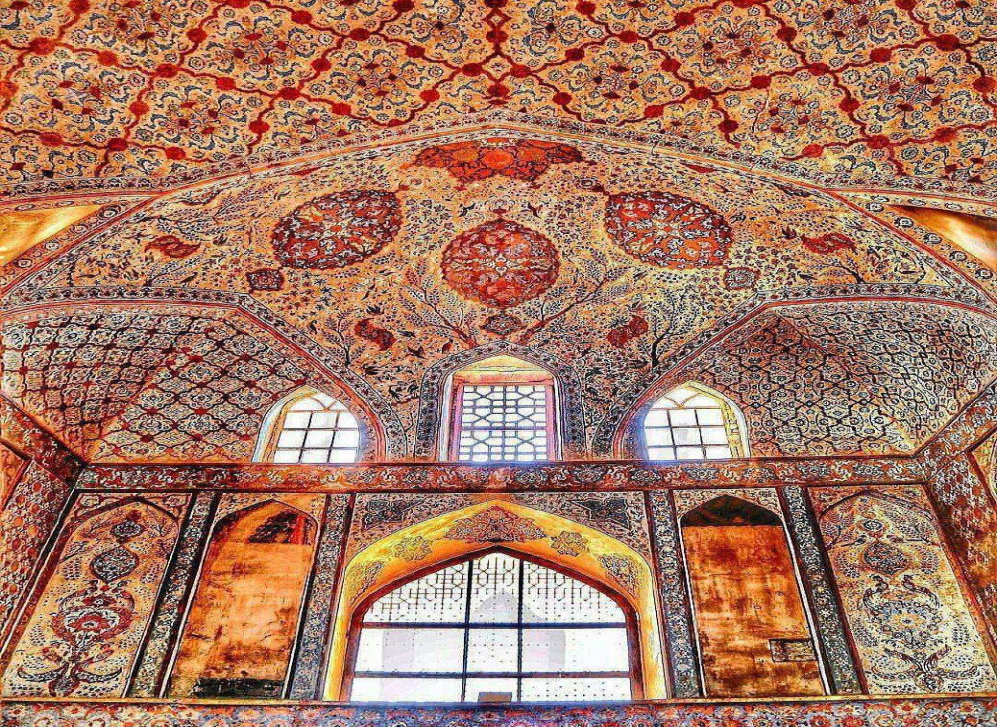 Ali-Qapu Palace
Lotfollah Mosque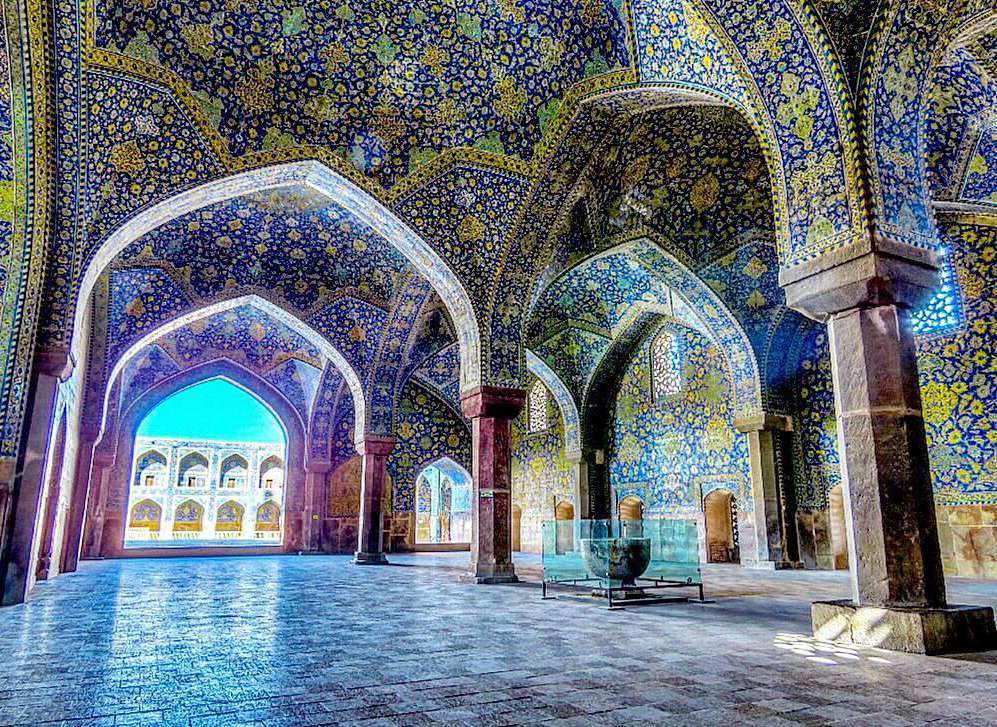 Jame Abbasi Mosque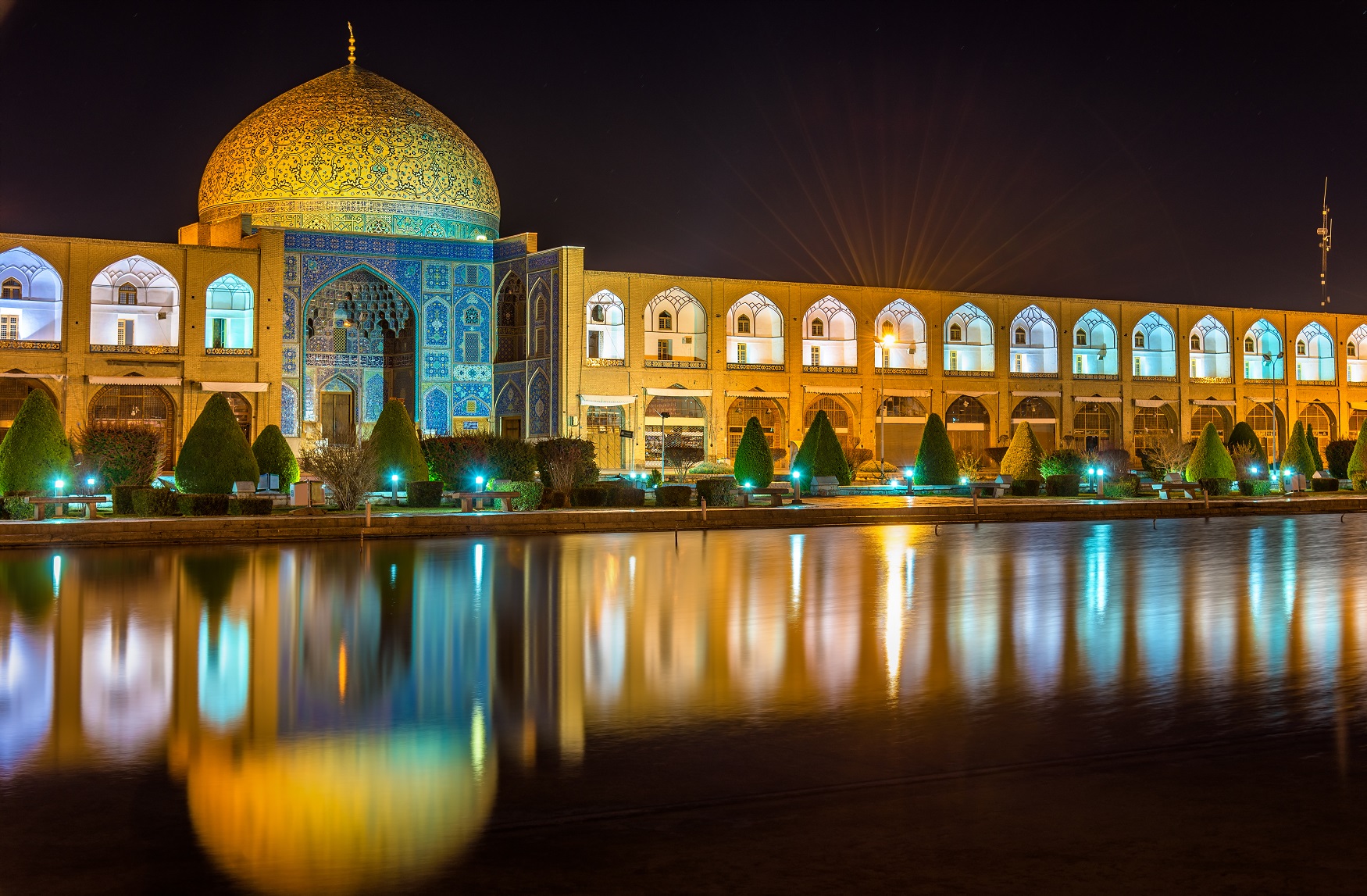 Naqsh-e Jahan Square
Naqsh-e Jahan Square, in the center of Isfahan, is a 400-year-old building with an area of 89,600 square meters. Jame Abbasi Mosque, Lotfollah Mosque, and Ali-Qapu Palace are located on the southern, eastern, and western sides of the square. Isfahan Grand Bazaar is located on the northern side where you can find old shops that sell all kinds of handicrafts. With the horse-drawn carriages available to visitors, the large pool in the center of the square, the green spaces around it, and a lot of cafés and restaurants in and around of the square, you can have a great time in this place and visit its mosques and palace to get a glimpse of eastern architecture.
Chehel Sotoun is one of the palaces of this historical city located almost near Hasht Behesht and in the middle of a garden. This is one of the most remarkable historic buildings in Isfahan. Twenty wooden columns support the entrance of this palace, and when reflected in the pool in front of the entrance, it appears to be forty; hence, the name of the palace is forty columns. The interior frescos of this pavilion depict historical events such as the Battle of Chaldiran.
Vank Cathedral
Vank Cathedral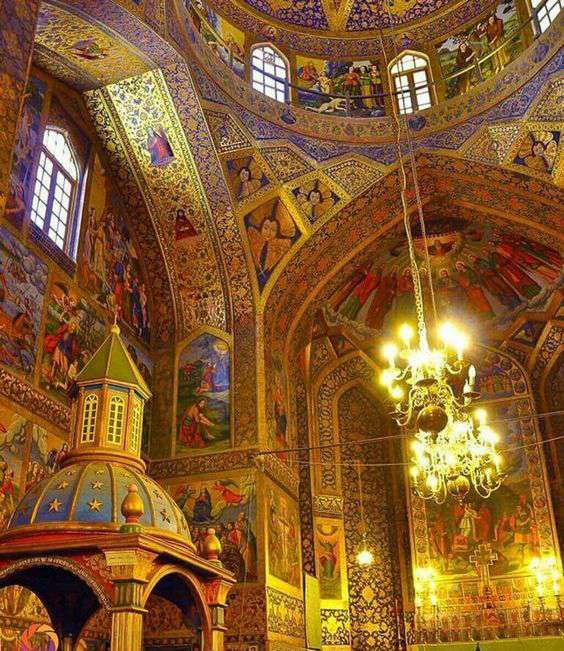 Vank Cathedral
Vank Cathedral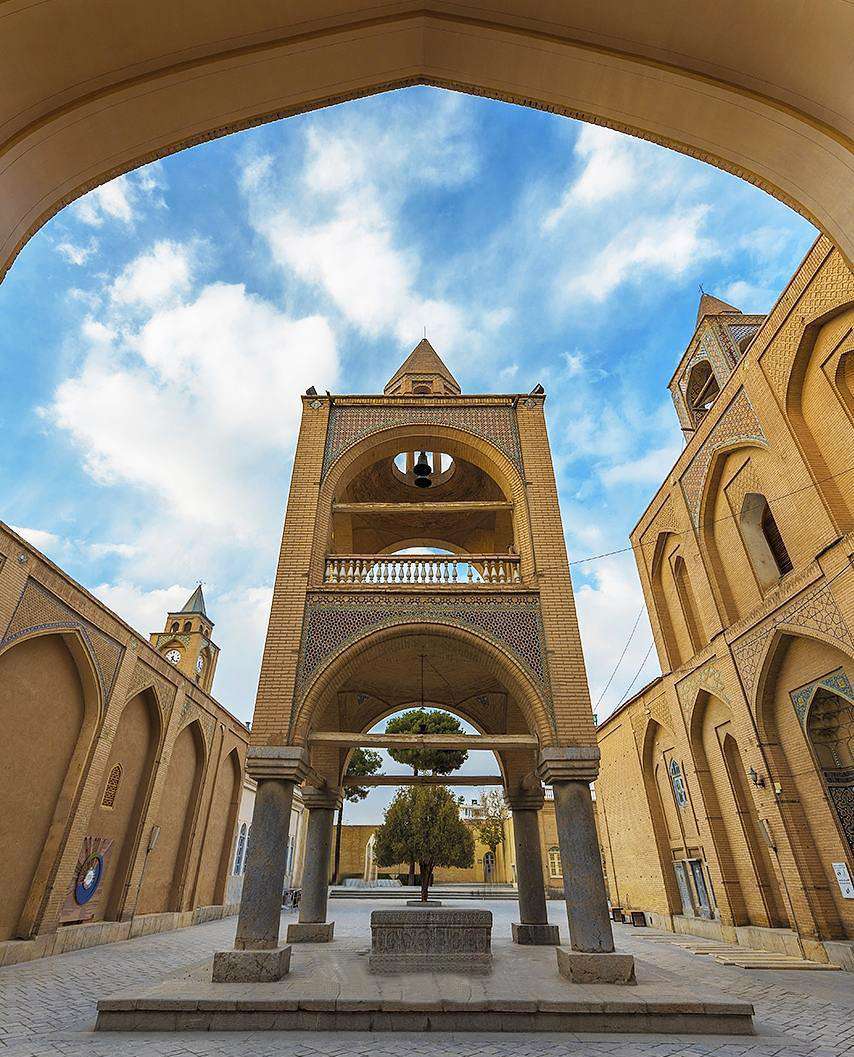 Vank Cathedral
Chehel Sotoun Palace
Some religious minorities live in Isfahan, the most important of which are Armenians living in Julfa, the largest and oldest Armenian neighborhood in the world. For centuries, they have been living among their Muslim fellow-citizens in peace with their own churches and cathedral, which is one of the tourist attractions of the city. Jewish used to live in Isfahan and some Jewish citizens still live there.New Julfa, named after the older city of Julfa, is the Armenian quarter of Isfahan, and one of the biggest Armenian quarters in the world. Holy Savior cathedral, commonly referred to as Vank cathedral is located in New Julfa. This palace has 400 years old and its historical texture still remains intact. The interior frescos of this cathedral are a combination of Persian miniature and Biblical story of creation of the world. Museum of Khachatur Kesaratsi in front of the cathedral is another noteworthy place to visit when going to New Julfa. Nazar and Khaghani streets, next to Julfa are other places you can spend your time shopping in, and a lot of restaurants and fast food stores are scattered throughout these palaces.
Isfahan in Spring!
In the spring, when the water flows through the Zayanderud, walking along the river is a good option to free up your mind from anything that has been stuck there for a week. The Zayanderud is the heart of Isfahan, and when it flows, gives life to the city by creating humid and cold weather. By walking along the river, you pass through Si-o-se Pol, Khaju, Marnan, and Choobi Bridges, each of which has its own incredible beauties. Under Khaju Bridge, you can see the people playing musical instruments and singing, and this creates a unique atmosphere!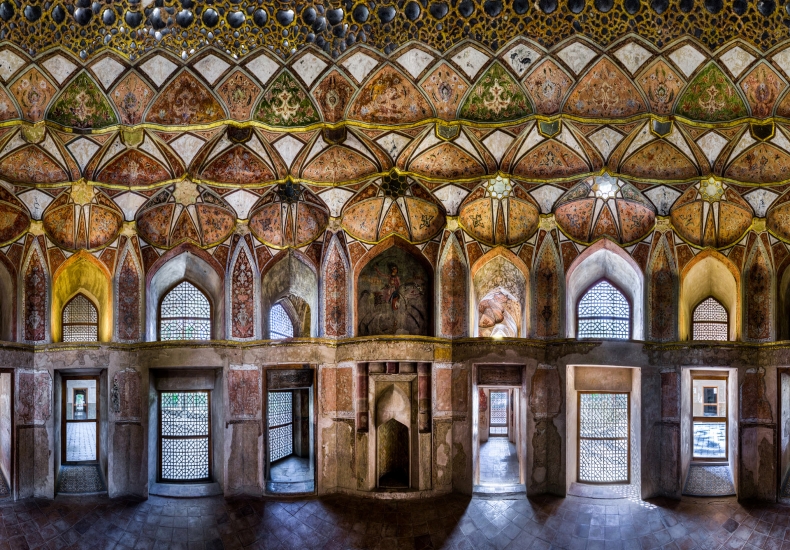 Majestic Palace
Hasht Behesht Palace of Isfahan is one of the most spectacular historical places in this city that makes everyone admire it from the very first moment. The architecture of the palace is interesting and in the form of a plateau and has a porch facing north. On the first floor, wherever you look, you can see very beautiful and unique plastering. When you go to the second floor of this mansion, the rooms and arches show themselves and on this floor, you can see several rooms and corridors. In each of these rooms, a special type of decoration attracts attention. The art of mirror work has been used to decorate the walls. Generally, the decoration of  Hasht Behesht Palace in Isfahan is amazingly magnificent and has always been of interest to tourists, especially foreign tourists. Hasht Behesht palace, which is surrounded by Hasht Behesht garden, is an enjoyable place to visit, and many families spend their time in this garden to stay away from the amenities and technologies available in their homes.
Chahar Bagh
Shaking minarets or the Menar Jonban is one of the most famous attractions of Isfahan, the construction of which dates back to the eighth century. It was built during the Ilkhanid period. Two small and light brick towers were added on the porch during the Safavid period. This building with its dome-shaped roof, which is decorated with dark blue tiles and bricks. It has a unique architecture and can be considered a clear example of Iranian architecture. This building has two minarets, each at a height of 17.5 meters above the ground, which shakes when each of these minarets shakes. However, what is the secret of these movements? When we shake a minaret, the force applied to it is actually transmitted to the whole structure and causes the whole structure to shake. In the construction of these minarets, light materials have been used and the main reason is the ratio between the height and width of the minarets and the width of the porch.
Chahar Bagh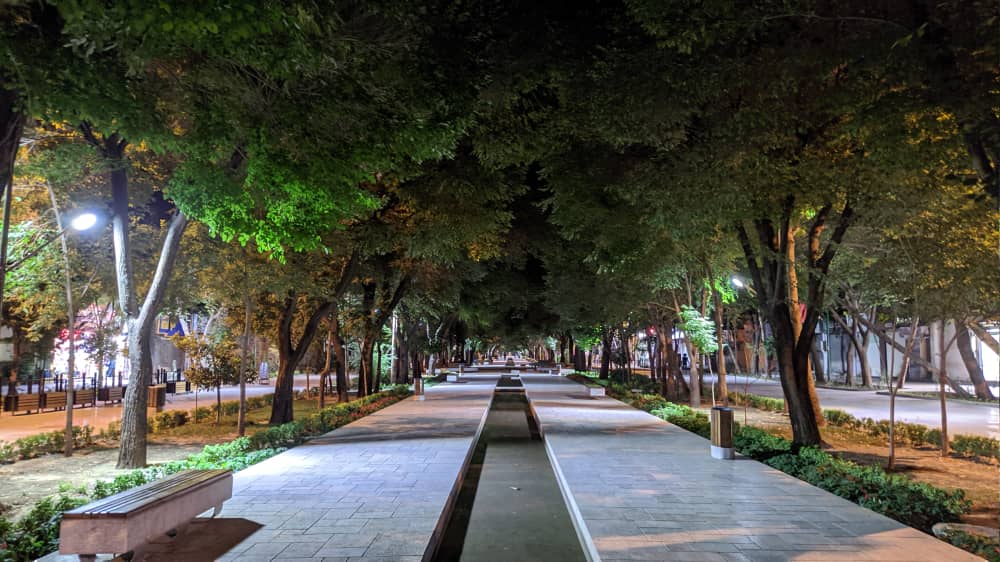 Khaju Bridge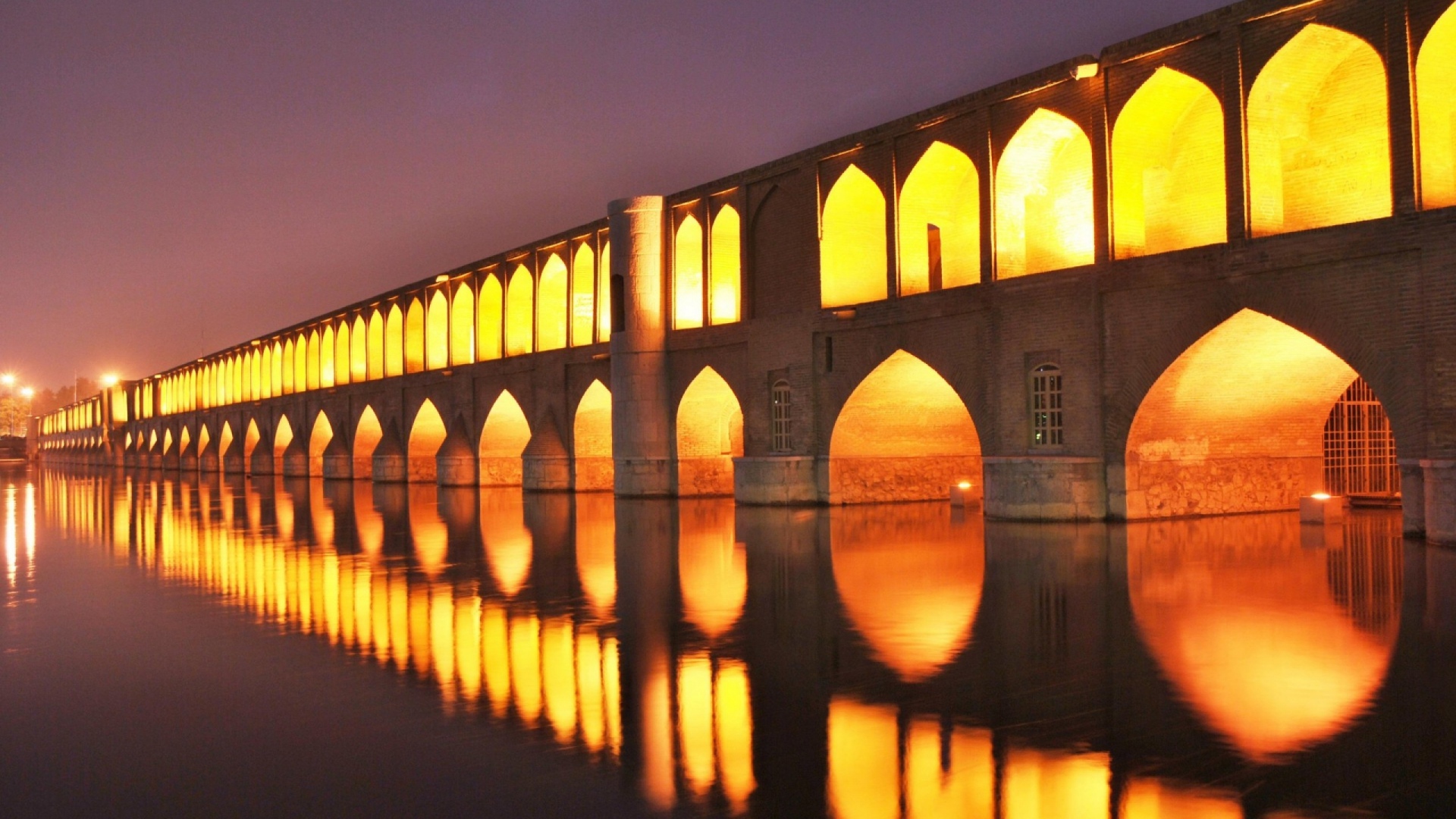 Marnan Bridge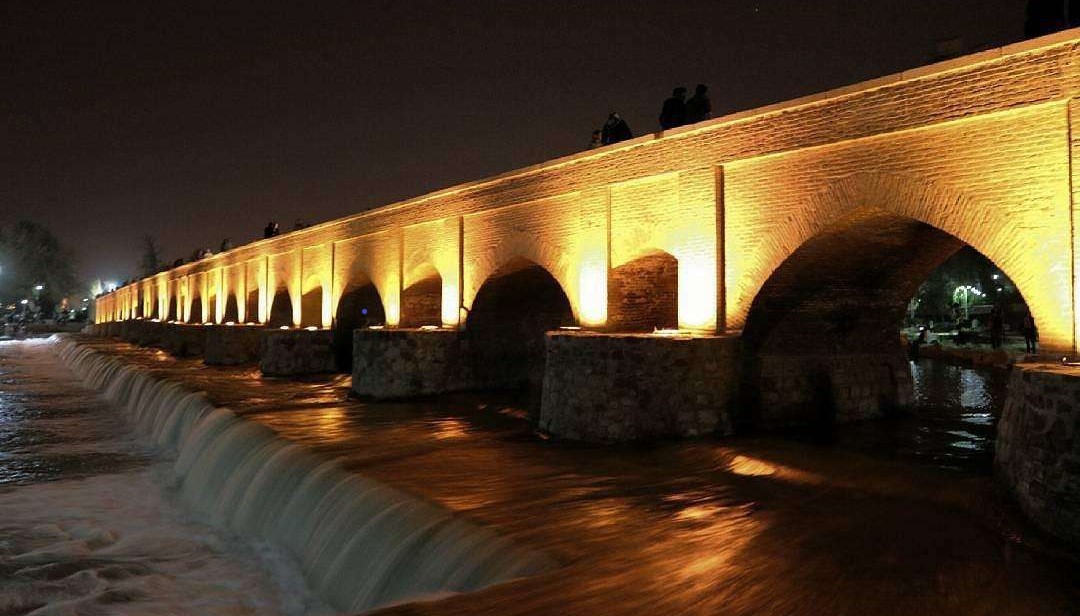 monar jonban